Press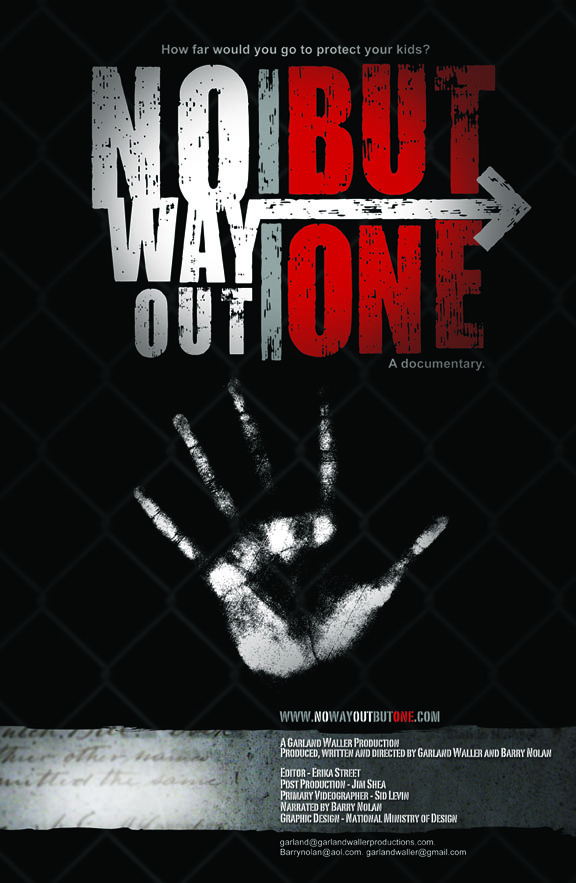 The Crime Report By Cara Tabachnick
Huffington Post By Nancy Doyle Palmer
WomensForum By Jodi Luber
No Way Out But One: A Story of Love and Justice By Sara Edwards
Holly Collins Documentary to Premiere in Boston! on americanchildrenunderground.blogspot.com
New Documentary By BU Professor Tackles Flawed Family Court System By Lauren Michael
'No Way Out But One' Screened Again: A Follow-Up on buquad.com

COM Talk on Boston.com

Press Release
Download a PDF of the No Way Out But One press release here
The Courts Called Her Crazy.
The FBI Called Her a Kidnapper.
Her Kids Called Her a Hero.
Boston, MA –No Way Out But One, an independent documentary by Garland Waller, tells the incredible story of Holly Collins, a kidnapper to some and a hero to many. The film also examines the larger issue of the tragic failure of the family court system to achieve its most important mandate, to protect children.
In 1994, Holly Collins was a desperate mother determined to protect her children from abuse at the hands of their father. Believing that she had no other choice, Holly kidnapped her own kids, left everything behind, and went on the run. She became an international fugitive, wanted by the FBI. She became the first American to ever be granted asylum by the Dutch government as a result of domestic violence.
To capture the full story, the happily married team of veteran producers, Garland Waller and Barry Nolan, traveled to the Netherlands, Washington D.C., St. Paul, Minnesota, and Albany, NY. They used the Freedom of Information Act to obtain never before seen FBI files. They gathered extensive medical evidence, court records, and sworn affidavits. They drew on published research and interviewed witnesses, legal experts and doctors.
Gracious and supportive friends recorded voiceovers, a la Ken Burns style, to capture some of the riveting drama of Holly's story. Wendie Malick of Hot in Cleveland, Ron Masak, once the sheriff in Murder She Wrote, Doogie Houser's dad, Jim Sikking, and one time NBC anchor John Palmer all lent their voices to the project.
This is a film that will make some people angry simply because it attempts to tell the truth. With luck, it may even make people angry enough to change the system.
And consider this a spoiler alert. Ultimately, the Holly Collins story has a happy ending. Today Holly's children thrive. They are healthy, successful, poised, and gracious and living in North America.